Foldable electric X-bike combines urban cycling with mountain biking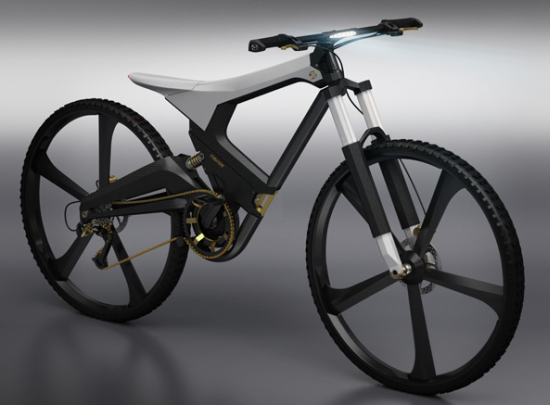 We already have had an amazingly cool foldable BlueSkyBike design, which is the blend of usability, style and eco friendliness. Here is another effort in the same direction by polish designer, Karol Mizdrak who has designed a folding electric bike for Mazda design 2012 contest. Through this design, he takes cycling to a completely new level.
Named X-bike, the concept bikes combines the urban cycling with mountain biking and has been imagined to tackle the cramped city space and off-roads with relative ease. In addition, those of you who love high speeds with eco friendliness should not worry as the bike comes equipped with frame mounted lithium ion batteries that can take you to the speed of 80 km/h.
Foldable X-bike is made of carbon and aluminum parts that not only make it lightweight but rigid to face the roughest of terrain easily and durable at the same time. The bike has increased ground clearance that allows you to overcome high downcast and gibbosity with relative ease.
Apart from these, the high tech bike features a touch screen display that shows you the information like speed, battery status, distance traveled and energy consumption. You can also connect your Smartphone to the computer X-bike through bluetooth data transfer. As we already told you in the beginner that X-bike is foldable, it can easily be placed in the trunk of a car to easily port it wherever you go.
About The Author
Related posts