Custom built 3D Trikes take trike drifting to next level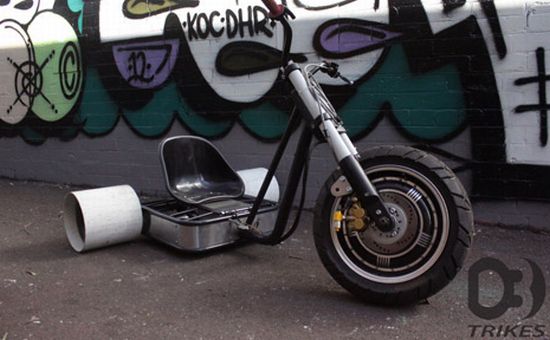 For all of you trike drifting aka drift triking loving souls who consider it nothing but a weird yet great pastime, 3D Trikes is to take your fun to next level with this crazy custom built drift trike. Just look at this extreme three-wheeler and you will agree that there is none matching its wacky credentials.
Created from scratch by a small team of industrial and electrical engineers at D3 Trikes, the drift trike is all about sheer drifting fun and is something one has never seen before. There is no word from the manufacturer as to when it will be mass-produced as such, but trike is to come with 2X10AH batteries, located at the base of the trike, that is to power the 3kw motor enabling it to touch 80kph.
For braking and handling, the front wheel will have oversized front disk brakes and trike will feature heavy-duty front steering assembly, custom cast aluminum torque arms from Chunk, custom rotomoulder plastic wheels and electronic controller for remote speed control, battery management and power to weight ratio setting.
Via: Core77  /  Trikedrifters
About The Author
Related posts