Ferrari 458 Italia gets gold makeover in China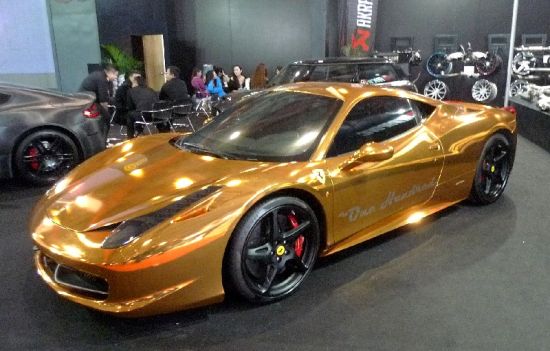 As there is no dearth of wealthy people all over the world who have hell lot of money to count, it is but obvious that they will be ever more anxious everyday to flaunt their wealth in one way or the other. Giving ultra luxurious and sports car a golden wrap is one of them. Such blinged wheels are often spotted in the gulf as well as in oil and gas rich Russia, and occasionally in the other parts of the world. However, the most recent entrant to the league is China and we have already introduced to you a gold plated Lamborghini from the Asian country, among many other gilded cars on our publication.
Here comes another blinged car from China, and this time it's a Ferrari 458 Italia, completely wrapped in gold. Ferrari 458 Italia is already a sleek and beautiful car but with gold makeover it looks even more beautiful. Dipped in gold from bumper to bumper, Ferrari 458 Italia is made an eye candy with black windows and black five-spoke alloys. While the wealthy owner might have forgotten that the black windows will keep his identity hidden, since such blinged wheels are just to show off, it would have been even great has the brake calipers been also dipped in gold.
About The Author
Related posts