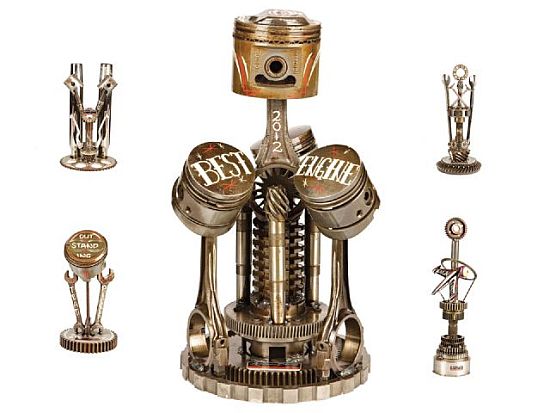 Remember those childhood days when we used to cherish those slightest words of appreciation? Winning a trophy or fetching a souvenir for any exploits whatsoever was kinda one-off – a rarity though – for sure. Now, times have changed, still the tendency to see others winning is all the same (to me at least).
Anyhow, just forget it and head over to the Autorama Extreme hall, where you'll see handcrafted awards lined up for those who come up with the best new project cars. Asking about occasion? It's the Don Ridler memorial award (sponsored by GM Performance Division), at the Detroit Autorama.
Built by creatives at Detroit chapter of the Poor Boys CarClub (TheOriginalPoorBoys.com), the trophies underwent a detailed manufacturing process. The process involves various steps like finding the right material from junk, the fabrication and finally, adorning these trophies with custom stripes and lettering. The PoorBoys team itself did most of it. Once the Detroit Autorama is over and the winners (not me) grab their trophies, the makers will have a blast at their shindig called Sins of Steel (SinsOfSteel.com), in June.
Let us know how you like the amazing trophies lined up for your perusal: