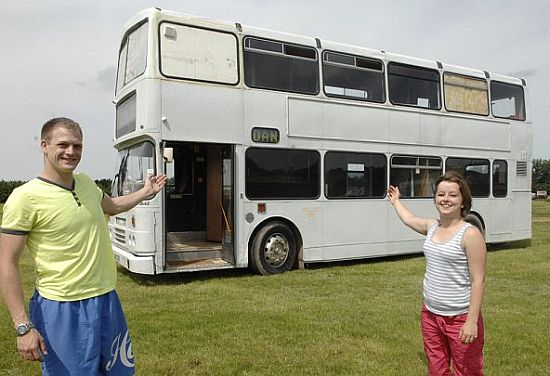 In the most recent example of creativity where a cash strapped Britisher has given shape to what can really be deemed as one of the most beautiful homes built on wheels. A British auto-electrician, Daniel Bond, 28, who couldn't afford the sky rocketing house prices in the market and couldn't mortgage it either as he is self employed, bought a 1991 Leyland Olympia double-decker bus from eBay last October and converted it into his dream home.
The bus cost Daniel merely £3,000 and he spent another £8,000 in the next four months to convert the bus space into a double room, a twin bedroom, kitchen, TV lounge, bar, toilet and bathroom. Well, what else? The home on wheels has all the plumbing work complete, there is a 220 liter water tank and the bus could be connected to a mains electricity for light and powering the appliances. For heating the vehicle, diesel is used while for lighting it, battery can also be used.
So the old bus comes out a very good alternative for a decent house that otherwise would have cost Daniel somewhere close to £200,000. Daniel is waiting for his bus driver's license so that he could drive his dream home with girlfriend Stacey Drinkwater, 20, to his native place, Cornwall.

Via: Kentonline