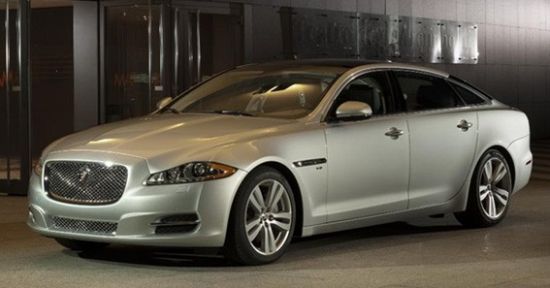 Jaguar has come up with a couple of updates for its XJ executive saloon. The brand adds an all-new 3.0-litre V6 petrol engine to its lineup, which replaces 380bhp 5.0-litre V8 in XJ range in 2013. Engine is capable of developing a moderate 335hp and 332lb ft of torque. Engine will be connected with ZF eight-speed automatic gearbox, which will come as standard to 2013 XJ range, together with its two other engines i.e. 3.0-litre V6 turbodiesel and 5.0-litre supercharged V8 petrol.
With new 3.0-litre V6 petrol engine, 2013 Jaguar XJ will be capable to run from a standstill to 60 mph in 5.7 seconds. The new setup will provide a combined fuel economy of 30mph with its CO2 emission at 224 g/km. The 2013 Jaguar XJ will come in new F-type sports car, will feature stop start as standard from 2013 on words, which will increase combined fuel economy to 47 mph and reduce CO2 emission to 159 g/km that amounts to 14 percent improvement overall.
Apart from this, all XJ models will have comfort suspension pack as optional and DAB didigital radio as well as a new sound system as standard. The new Jaguar XJ will hit the dealerships in September this year with a price tag of £56,260 for standard diesel version, whereas the 3.0-litre V6 petrol engine variant can cost as high as £65,365.
Via: Autocar