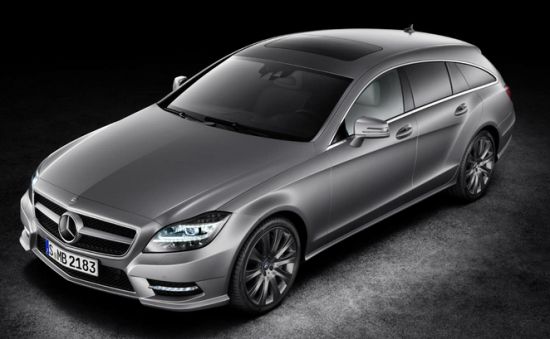 To the delight of all the Mercedes Benz fans out there who were desperately waiting for wraps going off to CLS Shooting Brake, the wait is finally over as the Mercedes has unveiled the production version of the car. Developed under the codename X219, CLS Shooting Brake is placed above E-class estate and is to hit the showrooms in UK by November this year with a price tag of £48,000.     
Mercedes Benz CLS Shooting Brake shares the same platform as the CLS coupe but features five doors and a roof that slides to the rear end of the car. Featuring five seats and large tailgate makes it similar in finishing to Cadillac CTS Wagon and to pose a stiff challenge to Audi A6 Avant and BMW 5-series Touring.
CLS Shooting Brake will be available in Europe in two gasoline and two diesel engine options. The gasoline versions include a 3.5-liter for CLS350 and a twin-turbo 4.6-liter V8 for the CLS500. Wherein, the former generates a total of 306 hp, the latter will be churning out 408 hp with sprint time of 5.3 from 0-60 mph.
One of the diesel engine versions for the SLS Shooting brake include a 2.1-liter four-cylinder engine for CLS250 CDI that generates a total of 201 bhp and takes 7.8 seconds to sprint from 0-60 mph with a top speed of 146 mph. The combined fuel economy of this engine is rated at 53.3 mpg and it emits 139 grams of CO2 per kilometer
The 3.0-liter V6 for CLS350 CDI develops a cool 261 bhp, runs from 0-60 mph in 6.7 seconds and has a top speed of 155 mph. Its combined fuel economy is claimed at 47.1 mpg and it emits 159 grams of CO2 per kilometer. Mercedes Benz CLS shooting Brake's high-end diesel and petrol version i.e. CLS350 CDI and CLS500 will have 4Matic four-wheel drive system as optional but for the selected left hand drive markets and not in the UK.
All the engines will come mated to Mercedes self-produced seven-speed automatic transmission as standard. CLS Shooting brake will feature three modes of driving that include eco, sport and manual. Apart from this, the other cardinal features that all the cars will come equipped with is automatic stop-start, brake-energy, recuperation, optional aluminum loading rails and a luggage space of 1,550 liters.