If you love sports cars and look forward to interesting futuristic concepts, then BMW may probably add charm to your driving experience. The company has recently revealed its concept sports car called Vision Next 100, which can change its mode to self-driving. Are you amazed? Then, let us tell you that this car is designed based on the shape-shifting concept. If you are more amazed, then read on to find what this concept car brings to you.
How the BMW concept car operates
This car has the capability to be switched on from the self-driving mode to the sports car mode. Thus, you can have the pleasure of vehicle-controlled, as well as driver-controlled operations.When the car is operated manually, then it displays the ideal steering point and the regular driving speed and line.
Else, the driver and the other front-seated passenger can face each other due to turning headrests, as the car drives them automatically. It has seats that swivel, as well as a retractable steering wheel that comes handy when the car is in autonomous or ease mode.
The performance and design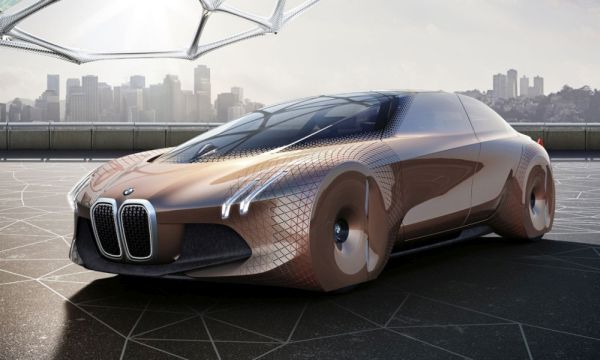 Image Source : Cdn.SdcarNews.Com
This car offers a high-performance driving experience to users through its well-managed driver-vehicle interactions.It definitely is a promising vehicle concept for near future. The concept car is designed to support effortless driving in the form of a premium mobility vehicle.
According to the company, this sports car can be customized per individual preferences. The vehicle not only shows dynamism and sportiness in its design, but also displays a sedan's elegance and style. It almost seems edge-less with smooth exteriors and sturdy interiors. In fact, it interiors are changeable and suit the travel mode of a driver.
The future with Vision Next 100
While the company has adopted a 100-year vision with Vision Next 100, it may start introducing a few changes within this decade itself.However, it believes that the world may soon shift to self-driving automobiles. Thus, it has taken a step to ensure that its cars can provide luxury, along with an automated driving option.Since future mobility will emphasize on connectivity, BMW is moving towards with the same futuristic vision.
BMW's new introduction of its concept sports car seems well in synchronization of its ideas of futuristic self-driving concept and extraordinary driving experience. This car seems promising on both the autonomous and manual driving modes.