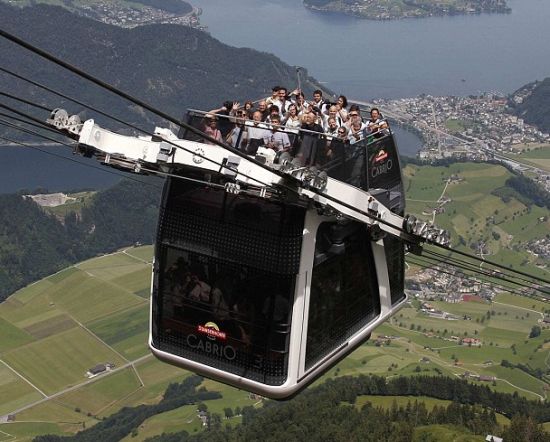 For those of you brave heart people who love to scale any height with relative ease, Switzerland offers another adventure in what they call as world's first open air double-decker cable car system. The cable car is christened as Cabrio and it sores 1900 meters up from the sea level to the Swiss Alps to give breathtaking view of the surroundings.
The Cabrio that climbs up the Stanserhorn Mountain near the city of Lucerne is a sheer thrill to be in and offers unique experience. The world's first convertible cable car has a capacity to take 60 people at a time. The lower room of the Double-decker cable car is cocooned completely in glass for less adventurous people who look for little security. However, for more courageous people who have less fear of heights can breathe afresh over the Swiss Alps and enjoy the thrill on the top deck.
The Cabrio starts from Kalti and takes the passages up to the summit station which is 1900 meters above the sea level. The complete thrilling journey is of 2.3 kilometers that open-air cable car takes little more than six minutes to ferry passengers to last station at a speed of eight meters per second, which is pretty quick.
With world's first double-decker cable car which is first to be an open air at the same time, Switzerland takes the cable cars to a new high and add an unforgettable experience with amazing view of the alps from above.
Via: Itv