The bicycle was invented in the 19th century, and has since pretty much done what it was intended to do, but the 21st century is all about innovations and experimentation. This vehicle for transportation has become a curiosity for designers who are playing with its functions, design, and even making it easy to port. We have put together a list of some of the unique and astonishingly great bicycle designs for the contemporary bicycle.
 Creatively unusual designs for bicycles
Unusual thinking and creative minds can completely change the outlook of a person towards anything. We know bicycle as a medium of transportation and something that improves the health of person by reducing stress and making the body stronger. Giving bicycles unusual and creative look can make it more than just being a vehicle to move to places. Below is collection of some unusual and creative designs of bicycles that are very much different from the old bicycles.
Bergmonch folding backpack bicycle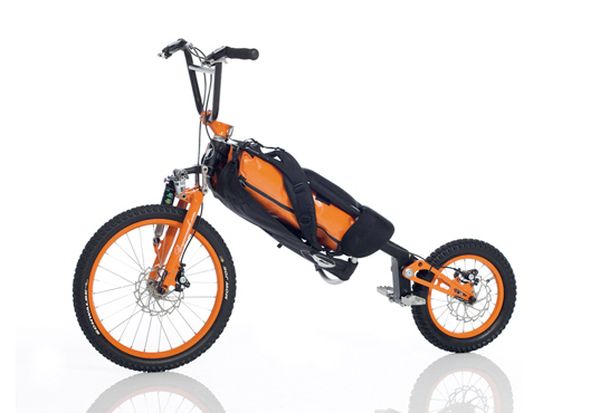 True adventure can be found deep in the mountains where breathtaking views are coupled with tough terrains. Most of these terrains have to be negotiated on foot, making it a tough bargain to drag your mountain bike along. The Bergmonch folding backpack bicycle can be folded into itself in less than 2 minutes to wear as a backpack. It is light to carry and this folding ability makes this tiny mountain bike a perfectly portable vehicle.
It is a perfect partner for the people who loves biking and hiking. With its unique design, one does not have to worry about pushing it up the hill while tracking. Its creative design allows easy folding that makes it easy for the people to have a smooth and tireless walk. Besides, it also makes a good backpack when not using it as a bicycle. This bicycle works well on smooth as well as rough roads. One can consider it as a good partner while travelling, especially on rough roads.
Di-Cycle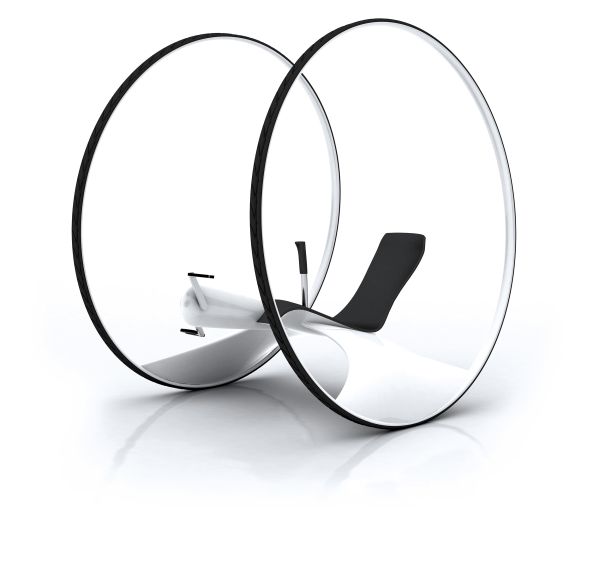 This bizarre concept of a bicycle that carries the rider on land as well as water was designed especially for the city of Helmond Netherlands. This large framed bike might look bulky, but the huge wheels add character and functionality to permit amphibious travel. Designed by GBO, these amphibious bicycles are to look out for in the future.
Eye candy bicycle
With sleek and stylish design; this bicycle has become quite popular, especially among bicycle lovers. Idea was to make a light weighted bike for easy and smooth riding; and, that is why it does not include any unnecessary parts. Although it is small; it is quite comfortable with a seat that fits to support the back. Moreover, it has big curled handles that provides the perfect grip while riding.
Rotation folding bicycle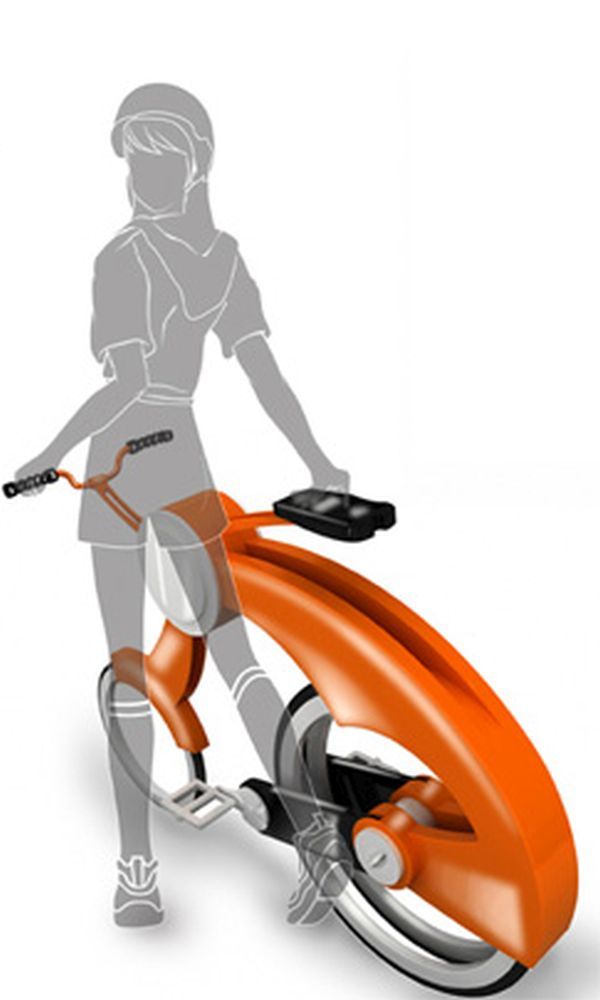 Designed by Yirong Yang, this model of a folding bicycle can be used as a unicycle as well. The city rotating & folding Rotation bicycle is completely adjustable, allowing the rider the freedom to determine the best position for the handlebars, saddle, and the distance between the front and rear wheels.
Versabikes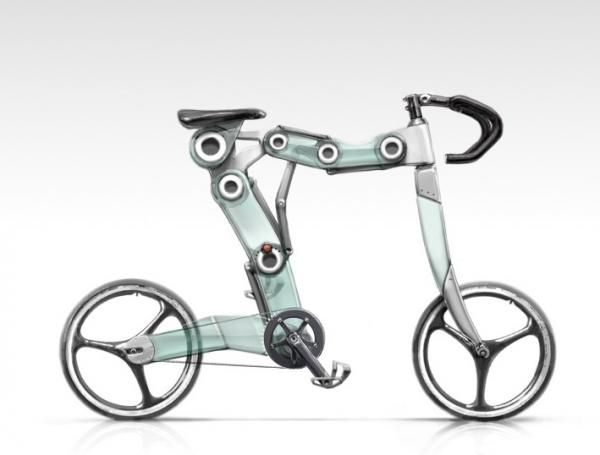 Taking biomimicry to a new level, this bicycle mimics a human on their hands and feet. The reason behind this design was to bring the pedals and the seat closer to the ground. Additionally, the bike is completely adjustable so you can use it for all ages of growing children. The bike has another unique functionality of expanding out or contracting while in motion to maintain a steady balance. This eco-friendly bike is made mostly from recycled materials and is a great choice for all ages.
Bendable bicycle
Bendable bike is a result of the creativity of a college student who also won award for this stunning bicycle. This bicycle is creative yet useful making providing more security to the person owning it. Bendable bike is just like any other bike but more useful than them. When not in use, one can easily bend it and tie at a secure place. Cable inside the tubes makes it bendable without covering much space. With this bicycle, we do not have to worry about its security. Besides that, it is quite comfortable to the rider allowing good grip for smooth journey.
Minimalist bicycle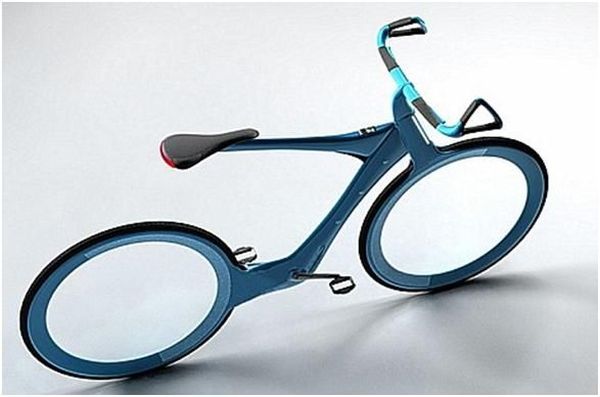 Olympic cyclist Chris Boardman has come up with this minimalistic design of bicycles that departs miles away from the traditional one. With no visible chain, handles that prevent wind drag, a seat that is suspended from the handlebar, and tires that cannot be punctured, the bike also has a solar-powered battery system to assist during uphill terrains. This bike brings an anti-theft feature with its fingerprint sensors and also has a smart computer in the handlebars to calculate the calories burnt based on the number of pedals. Boardman says that this bike is still two decades away from being a reality in modern transport.
Locust bicycle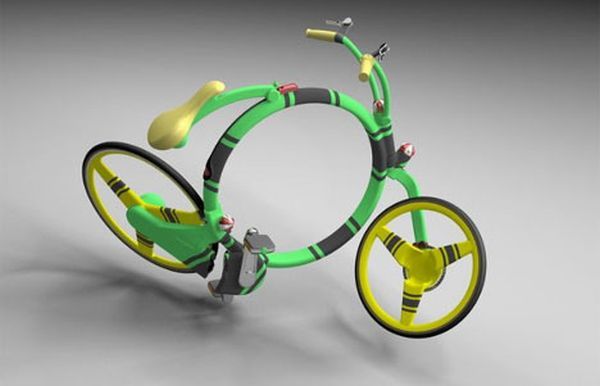 With Josef Cardek's latest design of a compact bicycle that can be folded into a neat circular frame, portability and space get new definitions. With a large circular frame in the center that allows all the range of movements that a traditional bike does with the ability to fold Locust, once the safety lock nuts are popped out, the wheels can be twisted around their axis to fit into this circular frame.
Thisway bicycle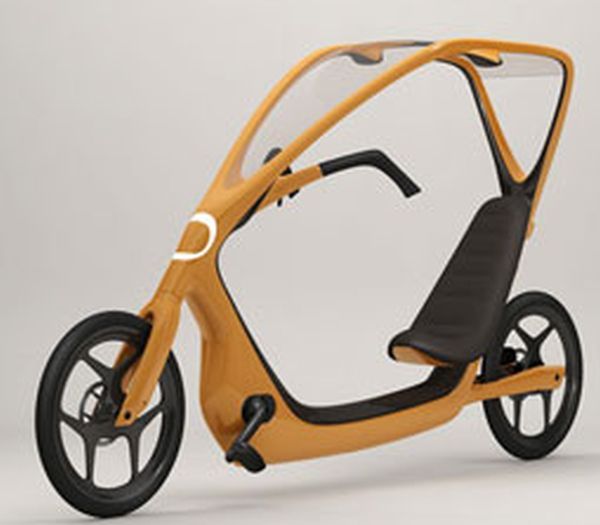 Swedish designer TorkelDohmers has designed a bicycle that can be used in all seasons. The covered bike concept of ThisWay features a transparent roof that can protect the rider from rain. Unfortunately, there are no fenders on the sides, meaning water from the road can still splash inwards. The design of this bike looks chic and with some more tweaks it will be ready to face all weathers.
Horsey bicycle
Although the design of this bicycle is similar to that of old one; but the styling is completely different and unique. Horsey bicycle is made of metal parts and screws that allow self-adjusting feature as needed. With the attachable and adjustable seat;  one can enjoy a comfortable ride. To attract people's attention; the designer gave this bicycle a unique and creative look.
To sum up
Bicycles have been around for centuries; and designers are now giving their basic frame a makeover with a touch of added functions. With the modern day requirements of portability, amphibious travel, smart riding and more; there are many proposed concepts that are defining the conventional bike.
One can consider bicycles as a healthy partner while travelling. As many other medium of transportation are available; bicycles have to look better and unique. It is for this sake that bicycles have taken unusual shapes making journey  fun. With the modern technology and creative designs, bicycles are now more fun to ride.