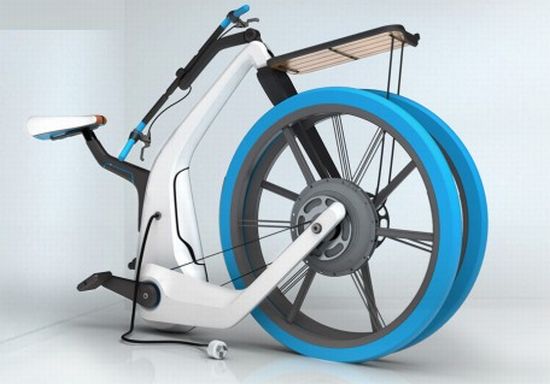 In a future scenario wherein the space in city will cramp with each passing day and natural sources of energy we harvest from earth will be at nadir or will diminish altogether, it is very important that we girdle our loins up to meet the scenario from now on. In the past, we have already seen some great efforts made by designers and automakers to come up and suggest how we can survive and keep transportation alive in those difficult times, that too without polluting the environment a wee bit.
One such endeavor is foldable BlueSkyBike concept, which is the result of collaboration between Industrial Design Intern Richard Heath from Auckland and BlueSky Design from Sydney. The duo has imagined in electric BlueSkyBike a blend of style and eco-friendliness to the urban commuters at one hand, while on the other its folding mechanism will solve space problem in the times to come.
The duo has very successfully and more elegantly brought all these traits in one than any other concept showcased previously. A new paradigm in folding electric bike concepts, BlueSkyBike is innovative embodiment of futuristic bike concept. It that can be seen in the form of rotating fold mechanism enabling the rider to instantly store the bike, an integrated Smartphone app that gives you the important information like projected range; battery capacity and power assist levels on the go.
Powering the electric bike is a 250w hub motor that gets vital juice from a battery pack. Battery of the bike can be charged by plugging it to the conventional socket or by removing the battery itself, thus adding more the usability of the bike. One of the technologies that bike incorporates is regenerative braking that charges battery when you brake the bike downhill.
Via: Bicycledesign