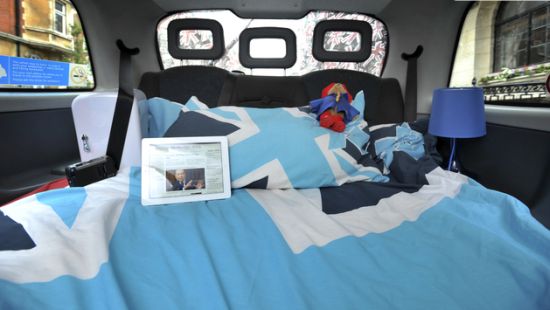 Conversion is something that I love the most. You will find them in plenty on Autochunk in future too. Nevertheless, some of the conversions are great, some awe inspiring and some take you to another world altogether. After you saw a British auto-electrician, Daniel Bond, converting a second hand 1991 Leyland Olympia into a mobile home, here is another conversion by a Britisher, David Weeks. This guy has converted his black cab into overnight accommodation to cash in on Olympics as the taxi drivers, hopefully, won't be allowed to use the Olympic Games Lanes which might lead to less rounds of the city resulting in fewer earning for them.
This fully functioning, which is now a hotel for one, features memory foam mattress, pillow and duvet, a bedside lamp, curtains and a Paddington Bear teddy. In order to provide the occupant an utmost comfort, the taxi hotel room has an in-built solar powered fridge, a radio and an iPad for entertainment. Camping chairs and a portable table is also made available on request.
However, one should have flexible timing to avail this taxicab with overnight accommodation. The owner of the taxi will leave it with the guest on the pre-decided locations that include either outside Mr. Weekes's house in north London or anywhere in the capital where it is legally permissible. The occupant has to relinquish the cab in the morning, so that David could continue his routine job.
The interested customer can book the taxi through the home rental website Wimdu.co.uk and it's to cost £50 /night. The precondition of renting the vehicle is the occupant can't drive it, has to find a lavatory on his/her own in case the location is outside Mr. Weekes's house but those who are to live by his house, can use David's facilities.
Via: Thisismoney