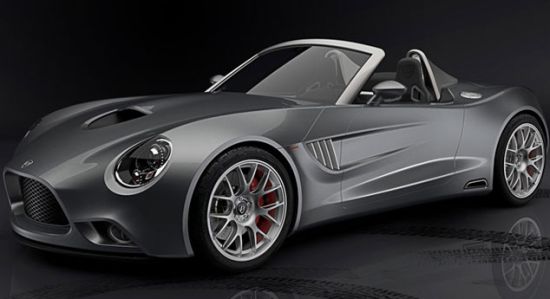 I always use to think and wonder what if American muscles meet Italian car designing. It will be amazing and an unbeatable combination. But there is always a great difference in 'just thinking' and actually perusing the same. Pureitalia Automobili, however, has solved our problem by actually presenting the same in Puritalia 427, which is inspired by classic 1965 Shelby Cobra but in Italian design uniform.
Flaunting distinctive Italian designing, Puritalia is unique if we talk about design, style and the way it has been built in particular. The two-searter exotic racecar is the blend of class technologies and equally stunning high-class material used in its making to add more to the driving experience. As aluminum semi-monocoque with Chromoly steel tubular sub-frames make the chassis of the roadster, its body has been carved out of composite and carbon-fiber.
At the heart of this beast is a front positioned 5.0-liter naturally aspirated V8 engine that develops a total of 439hp and 391lb-ft of torque. Well if 439 ponies are fewer, then there is supercharged engine that takes a huge leap to 605hp and 472lb-ft of torque. Engine is aligned with 6-speed manual transmission that conduits power to all the wheels. No performance details (o-60mph sprint time and top speed) are made available as of now.
Apart from these, the vehicle also feature hydraulically powered brake booster and Brembo brakes bring the beast to a halt in short distance. Measuring 434cm X 195cm X 125cm for length, width and height respectively, Puritanical 427 weighs merely 1089kg with equal weight distribution. The small beast is a collector's delight and anyone who wants the pleasure of driving would really love to own one.
The fans and its possible buyers has to wait a little too long to sit behind the wheel of Puritalia 427 as it is to enter production in the first quarter of 2013 and expected to hit stage at Paris Motor Show the same year. There is no word as to how much Puritanical 427 possible buyers have to shell out in order to own it.
Via: Autoblog