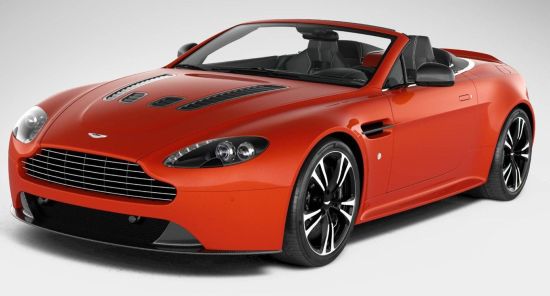 Aston Martin fans gave warm welcome to 420hp Vantage V8 Roadster and then to slightly more powerful 430hp Vantage S Roadster cousin. Then, the rumor-mill started churning about Aston Martin V12 Vantage Roadster and finally it's here with the confirmation of its being up in a limited run of 101 units.
The photos of the limited edition leaded online before its official unveiling later this week. The beast is to get a monster 5.9-liter twelve-cylinder engine that will churn out a massive 510hp and sprints from 0-60mph in just 4.5 seconds.
The open top roadster will have considerable differences to its siblings, which can be witnessed in the form of revised deck lid, reshaped spoiler and newly designed front air intake as well as modified front and rear suspension. Apart from this, the other unique traits to the new Aston Martin roadster will be seen in carbon-fiber mirror caps, taillight fill-ins, side strakes, taillights surrounded in black borders, newly forged alloy wheels and glass switches in place of black plastic in the centre stack.
Aston Martin V12 Vantage Roadster is to enter production in the last quarter of 2012 and is to be built in a nine-month period. There is no word on its pricing as of now. All the details of the new Aston Martin will come with its official unveiling. Stay tuned, as we will keep you updated on this.
Via: Caradvice