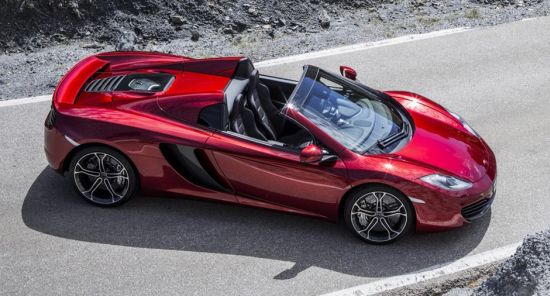 Last week we saw McLaren teasing its MP4-12C Spider through a video, but now the sleek beast has officially been revealed. Coming one year after MP4-12C supercar, McLaren MP4-12C Spider is to give tough challenge to its long time F1 adversary, Ferrari. Built with more practicality considering it's a drop top version, McLaren Spider has retractable folding hardtop that can function up to 19mph of speed. Made using lightweight carbon fiber, the hardtop roof can be operated with a switch fitted on the center console and takes merely 17 seconds to fold or unfold.
Under the hood, there is same twin-turbocharged 3.8-liter V8 placed on the carbon fiber chassis as in its coupe sibling. With recent upgrades, engine is good enough to generate 616 ponies at 7,500 rpm and highest torque of 442 lb-ft. Engine is connected to a seven-speed dual-clutch gearbox that conduit power to the rear wheels of the car.
However, the drop top version weighs at 3,249, which is 150 lbs more than its hard top version but that hasn't affected its performance too much. It retains the same 3.1 seconds sprint time from a standstill to 62mph and now reaches from 0 -100mph in 6.1 seconds which is merely one tenth of a second slower to hardtop version. The top speed is at 204mph in comparison to 207mph of MP4-12C.
Other changes that make the current offering different from its predecessor include a rear window that can be lifted or lowered. There is roll over protection system to provide safety if any accident occurs and in order to face the high speed bumps on the road, the spider version offers an optional vehicle lift system that help raise the rear by 25mm and front by 40mm.
The McLaren Spider is expected to put for public viewing at Paris Motor Show in September, with its US deliveries expected to begin in early 2014. There is no word on its US pricing as of now, but the UK price will be £195,500, which amounts to £19500 premium over the coupé.
Via: Autoweek