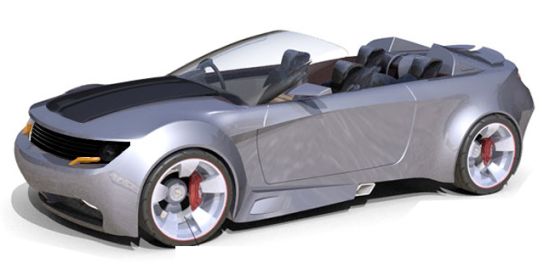 Introducing here is a unique concept, which is stylish at one hand and economical on the other, Shelby He-GTS. Marcus Southgate, the British designer, imagines a new Shelby with 6.3 liter monster V8 engine that can run on hydrogen or ethanol. Imagined to be powerful and economical, the hybrid-ethanol hybrid generates a total of 350kw and 600 Nm of torque when ethanol is used and 250kw when the hydrogen is used. Engine is connected with sports shift auto or six speed manual transmission that conduit power to the rear wheels.
The concept is named Shelby He-GTS and is imagined in both coupe and convertible versions. The vehicle is not only economical and powerful but has eco friendly credentials too as its body is to be built with lightweight and recyclable PHA plastic instead of carbon fiber.
Made to give feel of a muscle car and economy of Hydrogen mode, the beastly coupe has a front mounted engine that propels the rear wheels to give four adult people an adrenal gushing ride. Some the prominent features you can see here include scissors doors for easy access, hubless wheels with inverted disk brakes and two racing stripes starts from the front to sweep inside to form dash and finally become spoiler at the rear.
Inside, the instrument panel flaunts digital speedometer, tacho and BHP counter that give it a real racing car look. Adding more to its eco-footprint are seats, dashboard, center console and door trim made from biodegradable Zeororm, constituted of cellulose fiber sourced from paper, plant or fabric waste.