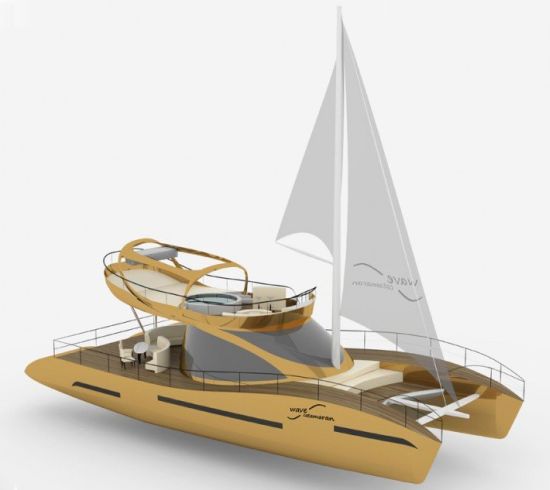 Improving on the simple and edgy design of contemporary typology catamarans, designer Roberta Visintin has come up with a 24 meters long curvilinear cruiser yacht that presents an elegant as well as functional design to ensure a safe and comfortable voyage.  Hailed as "Wave," the elegant catamaran brings the interiors and exteriors together with a flowing design to offer a lively living space to the sailors.
As the name as well as whole structure suggests, the Wave catamaran draws inspiration from the free flowing movement of sea waves, for the fine lines of hulls look as if breaking to bow. Featuring the body finished in bronze color fiberglass, the cruiser yacht also touts huge glass windows to ensure visual continuity by giving a wide viewing angle to the people onboard.
Coating the walls with civil white plaster for a superior interior, the Wave makes use of fine leather to decorate owner's cabin and the headboard of the bed, while the wooden flooring (teak for exterior and wengé for interior) ensures optimum comfort. The sails of the yacht are made in carbon fiber to make them sturdy and durable in extreme weather conditions.
Source: Adesignaward