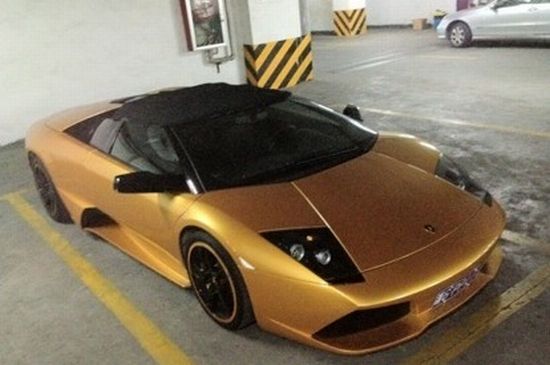 It seems that China has rich people and Lambos in plenty and they love to see it in gilded avatar – be it gold foil wrap or paint. In either of the two conditions, you need deep pockets to support your desire. We have many gold plated cars covered on Autochunk and some of them are from China. Don't be surprised, if we are to introduce you with another gold plated car in Lamborghini Murcielago Roadster from China. Moreover, it's not that foil wrap but a gold plaint all over the body including wheels.
The monster now adds bling to its aggression. The shining beauty was spotted by Carnewschina reader, Holy-Smoke in the underground parking in the city of Hangzhou in Zhejiang Province. Just to remind all the Lambo fans, the monster comes equipped with a 6.5 liter V12 engine that churns out a massive 631hp and 660 Nm of peak torque. The beautiful beast touches the 100km/h from a standstill in 3.4 seconds, en route to its top speed of 330 km/h.
I don't really make it out what is it that makes wealthy people give their already beautiful cars a golden wrap. It's nothing more than a pompous parade of excessive wealth. Nevertheless, the wealthy people won't stop here and we will get such wheels in future too. So keep your fingers crossed until we strike with another beautiful car wrapped in gold.