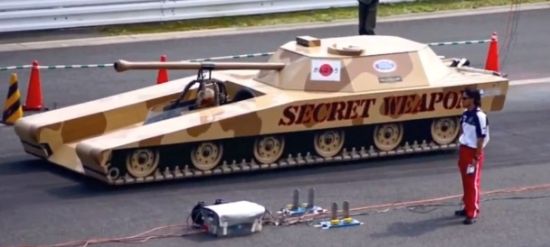 Jet powered vehicles always give me goose bumps for the massive power they exert and that huge smoke and fire they belch. The monster machines crack the roads and that lots of rubber burning is really mind blowing. The one pictured above is equally mesmerizing and ferocious for sure. It's from Japan and would have made a big difference has it been made during World War II.
Let me tell you more about this amazing looking machine and it's, woefully, not a real tank but fabricated on a vehicle we don't know anything about. What we know is that it is named 'Secret Weapon' (as we can read it on the sides of the tank) and is equipped with a Westinghouse J34 jet engine that US Air Force jets used roughly from late 40s to early 50s.
Now since you know that it has a jet engine, it is but obvious that this flame-throwing monster is to generate thousands of horsepower. Well, yes it churns out a mammoth 17,000 horsepower and can scream to a top speed of 500 km/h. One run of the dragster costs a whopping 2,500,000JPY per run, which amounts to approximately $32,500 at the current exchange rate.
Check the video after the jump to see this Japanese monster in action.
Via:  Autoevolution