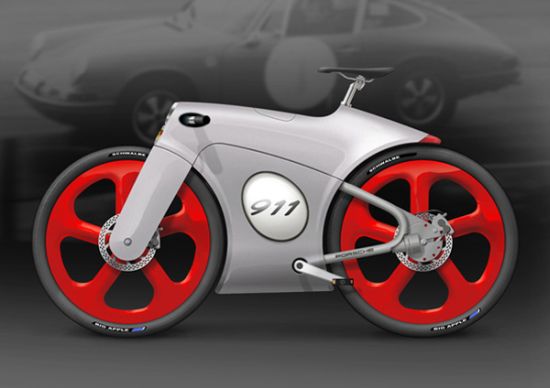 With city roads cramping for space due to increased number of vehicle, need for some trendy and functional bicycles has been felt more than ever before. For the bikes not only help in reducing the traffic on roads, but also helps in reducing the carbon emissions to make cities a better place for living. Drawing inspiration from the Porsche 911, Dutch designer Bastiaan Kok has developed a bike concept that presenting a sturdy, but at the same time elegant, design to look more like a motorbike than a bicycle.
Adhering to the influential bodywork of the renowned Porsche 911, the new bike offers a free flowing design to maintain the sporty look to attract the modern youth towards sustainable commutation. Featuring the body (frame and fork) finished in aluminum; the bicycle concept incorporates the headlamp and tail lamp right into the frame to maintain the smooth lines.  And the classic Porsche badge makes it more influential.
Moving on Schwalbe Big Apple tires wrapped around 5-bladed carbon wheels, the sporty bike ensures a smooth and steady ride, while the disc brakes allows complete control at high speeds. Apart from the aluminum body, which could be replaced with carbon fiber to make it lightweight yet robust, the Porsche bicycle concept packs virtually everything to make a strong statement in the bicycle industry.
Via: AutoBlog