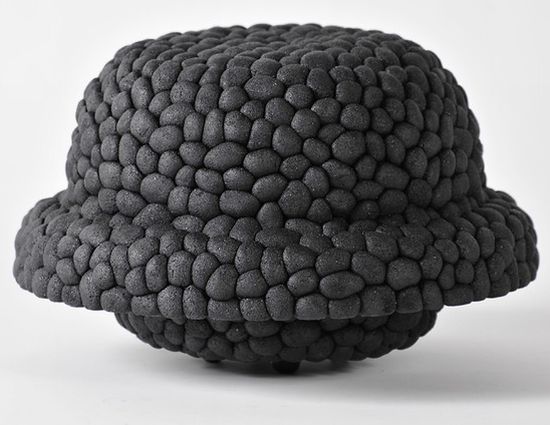 There are thousands of examples where the creative minds have converted sheer trash into something very meaningful. We, at Autochunk, have already introduced you with Transformer wine rack, Sculptures from bike parts, Stonehenge replica from scrap car parts and Trophies from junk auto parts, here is another masterpiece from Dutch industrial designer, Debbie Wijskamp.
The auto parts used this time is recycled tire rubber, which is otherwise go waste or burnt to get rid of. The artist presents 'Black Ruby' housewares collection that anyone of you would love to put on your dining table. In order make Black Ruby collection, Wijskamp developed a technique that recycles widely available rubber powder into objects that are waterproof as well as functional.
Further, she created small pebbles out of powdered rubber, fastened them with polyurethane binder and finally stacked them into a series of decorative containers.  The collection includes cups, plates, bowls and vessels that look amazing and different at the same time. However, using it for food won't be safe. This weirdly wonderful collection will be available only through the designer.
Via: Fastcodesign / Inhabitat