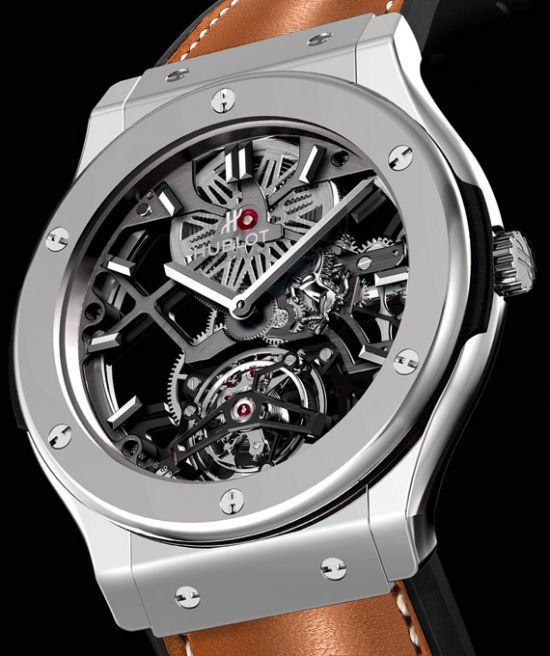 Ferrari 250 GTO is a legend, a car that epitomized the brand Ferrari. The car was the champion of its time and broke many records since its launch. The most recent, however, is of most expensive car sold, when a wealthy American bought it for a cool $35 million in May. In order to honor and celebrate the 50th anniversary of the car, Ferrari organized a historic event at de Hautvillers. The event will have 24 owner of GTO at one location for the first time.
On this occasion, the official timekeeper for Ferrari, watchmaker Hublot has represented Ferrari 250 GTO Classic Fusion Watch. Hublot created this watch to match the styling of legendry Ferrari 250 GTO and it features titanium 45mm case, which is followed by a skeletonized Tourbillion movement. To add more to Ferrari's iconic form, Hublot created a special barrel drum matching the 250 GTO's wheel rim.
On the backside of the watch, there are references of Ferrari 250 GTO including customized chassis number of the owner and the strap is made of calfskin. However, those of you who are thinking to buy one will be disappointed to know that this limited edition watch will be made exact to the numbers Ferrari 250 GTO ever manufactured (39) and will be up for the owner of the legendry car editions only.
Via: Freshnessmag