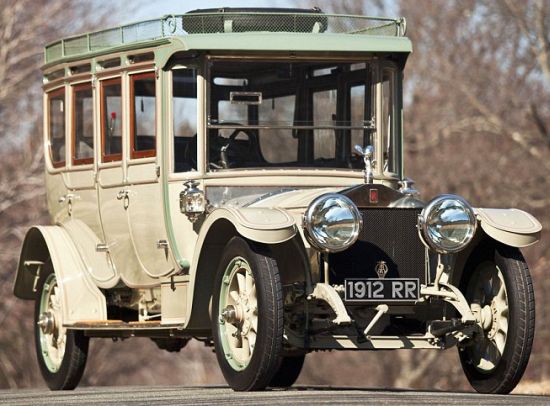 It was just a week ago a 1929 Bentley Blower auctioned for record-breaking £5,041,500 (7.8 million at current exchange rate) at Goodwood, now it's a 1912 Silver Ghost that has become the most expensive Rolls Royce ever auctioned. Bonhams see the fierce bidding that ended at £4,705,500 ($7.2 million) for this century old car that features 7.3 liter engine capable of generating 50 brake horse power. Engine is aligned with four-speed gearbox that enables it to reach a top speed of 60mph.
Rolls-Royce Silver Ghost was introduced in 1906 and this model belongs to the year 1912. The auction took place at the Goodwood Festival of Speed and smashed the estimated price of £2million. The century old car that does only six miles on a gallon flaunts extraordinary features to give its modern counterparts a run for their money.
Its luminous interiors are embellished with silver and ivory, its door panels are embroidered with silk, and to preserve the privacy of the occupants, the brocade tassels are attached to silk windows. Additionally, the footrests of the car has a full picnic set for four concealed underneath, there is a China tea service together with an alcohol-fuelled burner and kettle to heat the water.
Rolls-Royce Silver Ghost cost £1,000 in 1912 that equals to £93,000 in today's money but it got the title of most expensive Rolls Royce under the hammer. Silver ghost isn't, however, the most expensive car at the Goodwood Festival of Speed, the title was clinched by 1929 Bentley Blower we talked about in our beginner.