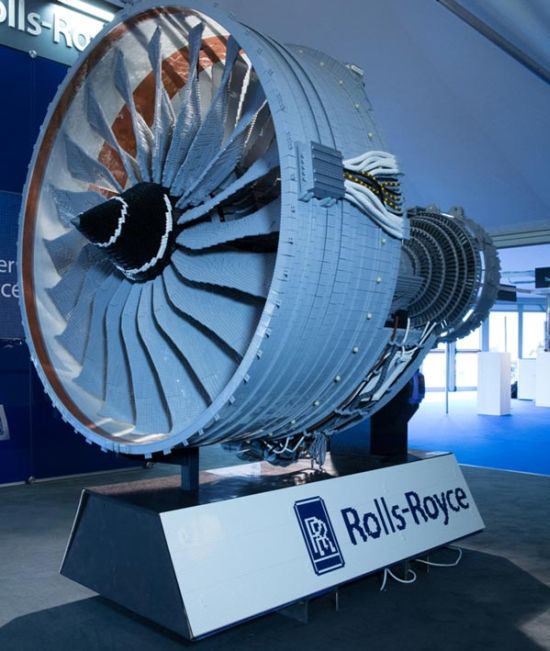 Anything with Rolls Royce badge makes a  big difference in the auto world – be it a luxury car, jet engine or anything  related. The brand has a massive fan following that welcomes anything and everything Rolls Royce. The result isn't different with Trent 1000 engine replica made entirely out of lego.
Rolls Royce's Trent 1000 powers the Boeing 787 Dreamliner aircraft in real. However, the British automaker has revealed its half-sized lego model at the Farnborough International Airshow. The model is deemed as one of the most complex lego models ever made.
The lego structure of the Trent 1000 that took four people eight weeks to construct shows the intricate craftsmanship and working of the complex engine. It took 152,455 Lego bricks in total and consists of 160 separate engine components that once joined gave form to an exact half replica of the engine that weighs 307 kg and measures over two meters long and 1.5 meters wide.
In order to present the exact replica of the engine, its parts like fan blades, combustion chambers etc. are meticulously examined before being replicated using lego bricks. The replica Rolls Royce's Trent 1000 engine is aimed to get younger generation involved in science and technology.
This first of a kind lego replica also owes to a team of graduates and apprentices from Rolls Royce who worked closely with the Bright Bricks – a company having expertise in lego structures. But what an amazing replica structure they have finally come up with. Kudos to the team!
Source:  Rolls Royce