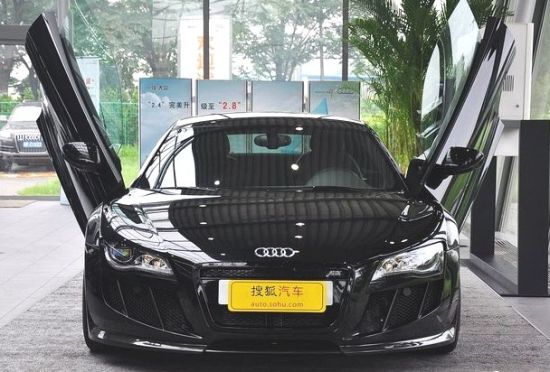 I don't know what is it  that makes tuners play with the already beautiful or powerful cars to do little about enhancing their performance or looks at times. Sometimes, they do an amazing job, while on the other they seem good for nothing. However, a German tuner, ABT, has just combined two worlds by introducing a carbon fiber body-kit for Audi R8 V10.
Well yes, you read it right. ABT presents a fat-ass body kit whereby it lowers the suspension, adds some extra wings and boosts the 5.2 V10 beast under R8s hood to produce a thumping 600hp and 550 Nm of torque. The figures seem amazing.  This is not all. The tuner has also added Lamborghini doors aka scissor doors to it thus making the beautiful looking Audi R8 even more enticing.
The beautiful mule with scissor doors has been spotted at the Audi dealership in Beijing. The car isn't up for sale yet but only a demonstration model brought to China where standard Audi R8 with V10s is quite popular. The move is intended to check the Chinese interests about this peculiar and one-of-a -kind Audi and to put it in the market accordingly.
However, a close look at the scissor doors will make you think if they are as perfect as in any Lambo.
Via: Auto.Sohu