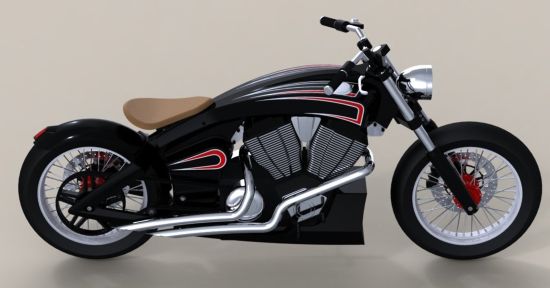 Victory Fastball motorcycle is a graduation project of Leonardo Maia, Brazilian Industrial Design student, who thinks that Victory needs to develop a new engine to compete directly against the Sportster family from Harley-Davidson and indirectly with other British and Japanese brands of the same category. As per the designer, Victory Motorcycle uses the same engine and transmission for all bikes: the Victory Freedom 106/6 (1731cc, 6-speed overdrive). The designer propagates that something between 900cc and 1200cc would be ideal.
However, the designer doesn't put Victory Fastball motorcycle as a concept but a production model based on the Victory CORE Concept which is inspired by the Bobber style. Consequently, he mixed the Core contemporary design language of the CORE Bike Concept with the vintage Bobbers and Board Track bike's look. He further added rear suspension in order to enhance comfort and safety and it features sand-cast Aluminum frame.
Leonardo also changed the battery position from horizontal to vertical because the swing arm pivot required some space where the battery was fixed earlier, and he had to keep that lower air intake box because of the oil cooler. The gas tank piece has a frontal air intake for the engine. All the four chassis pieces are made of 356-T6 tempered aluminum sand-cast. This is how this sleek looking beast took form.
Thanks for the info, Leonardo Maia!