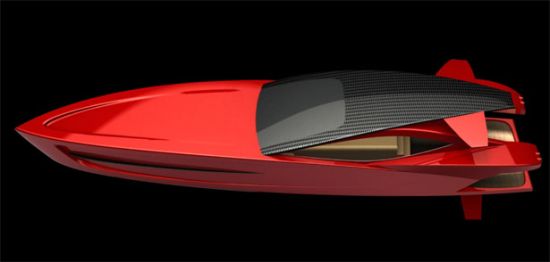 We've seen some of the most amazing concepts based on the renowned car brands. However, it's not too frequent that car brands inspire designers to create things off the track, yachts precisely. Some of the most amazing concept yachts that we have seen so far include Lamborghini yacht by Mauro Lecchi and Stephanie Behringer's Audi Trimaran. Now, it's time for us to introduce you with E110 Elegante Speedboat inspired by Ferrari.
The moment we hear 'Ferrari', we visualize a lean machine and Ferrari E110 Elegante speedboat is a true representative of the brand on the water. The speedboat in the harbor will give the same feel as a Ferrari in the parking lot. The imagination of a British automotive designer, Abdul Wahid, the dynamic Ferrari Speedboat draws inspiration from the iconic Ferrari 458 to bring its famous silhouette to an aggressive speedboat.
Abdul blends exquisite modern styling with speed and luxury in the Ferrari E110 Elegante Speedboat and colored it red to match the style. The speedboat won't disappoint you when it comes to thrill as the powertrain used to propel it on the waters is based on the technology generally used by Ferrari's racing wing.
Apart from Ferrari 458 Italia DNA together with style, innovative technology that brand is famous for and the prancing horse, Ferrari E110 Elegante Speedboat's cabin is identical to road going Ferraris. With a complete Ferrari makeover, E110 Elegante Speedboat is sure to give race and water sport-loving people a jolly ride on the wages.