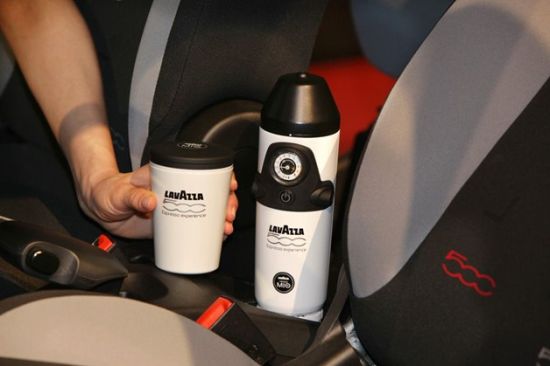 You may have seen luxury cars with built-in bars or wine chillers in the past, but there is no such option available for non alcoholic passengers. Need not to worry anymore, as the recently announced Fiat 500L is going to install an espresso coffee machine, created by Italian coffee maker Lavazza, to brew an aromatic cuppa coffee on the move.
Dubbed as "Modo Mio," the world's first in-car coffee maker rests elegantly between the front seats. Comprising car coffee cups, a sugar container and a spoon holder, the self-powered coffee maker fills the water at its base and moves it into the middle cup holder, while the heating element boils the water and add s the flavor from the coffee-filled pod at the top to brew a refreshing cup of coffee.
Expected to be available for €250 (about $300), the Coffee Experience kit would be a true companion to the Fiat 500L. With Modo Mio, now you can have a break during stretched journeys and enjoy your favorite coffee to resume your ride afresh.


Via: Autoblog