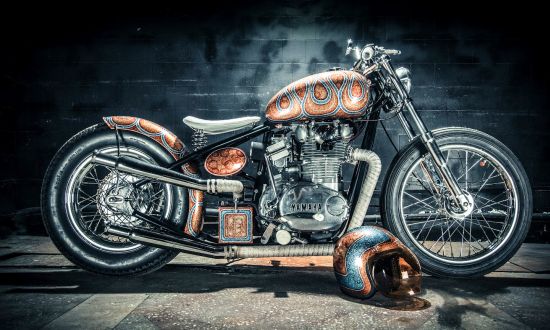 It's not that we don't like custom bikes, but we, at autochunk, feature best out of the lot. However, custom bikes have a cult following and they are loved all over the world, so much so that the custom bike builders go to any extent to cater to the interests that go with the passion so strong. The one here goes by the name of Goldfish and is an amazing creation of custom workshop DoZer Garage from Ukraine. The custom bike builder takes Yamaha XS650 and rips it off to add some details here and some from there; apart from custom building scores of its parts in-house.
The team at DoZer Garage shows their mettle by handcrafting hard-tail frame, kick pedal and handlebars for the Goldfish. Equally amazing is incredibly detailed 70's style flake and paintwork that adds more to its overall looks. On the top of this, bike features parts from all over the world that show meticulous planning behind detailing this creeping beast on the prowl.
Before delineating the coherent whole of this bike, engine is borrowed from Yamaha XS650, fuel tank from Jawa 350; Russian built IZ Plantea Sport contributed front end and headlight came all the way from the Japanese custom part shop, TT & Co. Further, NY based Harley parts supplier V-Twin contributed grips and mirrors and the nomad seat has also been ordered from a place we don't know anything about. The 18" front and 16" rear wheels are polished to match the color of the bike before being wrapped in classic Avon rubber.
Finally, the XS650 Goldfish took form to the amazement of auto nerds and to get those sinister stares and of course, lots of head turns.
Via: Bikerscafeblog