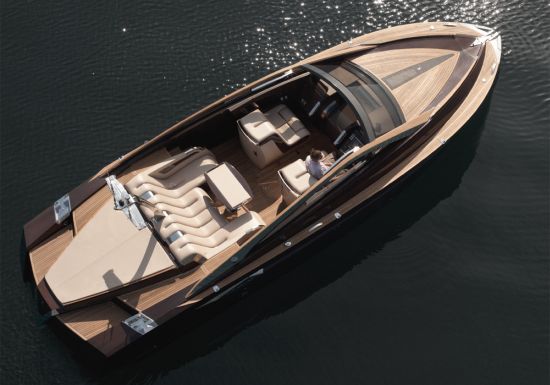 Setting a new benchmark for compact luxury yachts, wooden yacht manufacturer Art of Kinetik has come up with a 37 foot weekend cruiser that features a large open cockpit to give a clear view of the aquatic surroundings to the sailors onboard. Hailed as "Antagonist," the luxury yacht carries the legacy of elegant lines, fabulous craftsmanship, quality materials and minute details of the Serbian yacht maker.
Accommodating eight people comfortably in its large open cockpit, the weekend cruiser presents a utility table and large seating area to relax guests in utmost comfort. If you are looking to tan your body in the sun, the open deck "astern framed by teak walkways leading to the swimming platform" provides enough space for a pleasant sunbath.
Finished in wood and designer fabrics, the air-conditioned interior of the yacht also features mood lighting to create a cozy environment so you don't feel homesick. Powered by two prevailing Yanmar engines, capable of producing 370 HP, the Antagonist yacht can reach the top speed of 42 knots, while the deep-V wooden hull ensures a safe and smooth sail even at high speeds.
Via: Ubergizmo