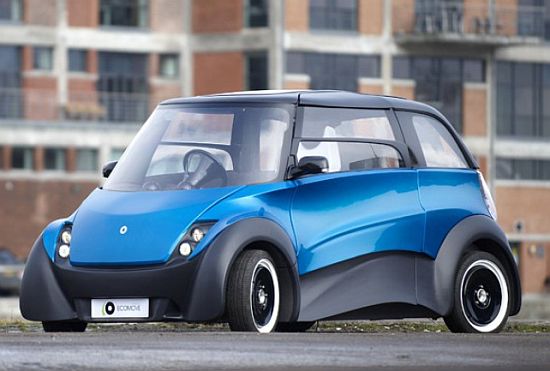 Electric cars may offer a sustainable commute, but low operating range of current EVs forces the owners to keep them more on the charging stations than on the road. Providing a solution, EV maker ECOmove, has come up with an efficient electric vehicle design called "the QBEAK" that promises a whopping operating range of about 500 miles, on a single charge, for longer journeys.
Developed in collaboration with Insero E-Mobility and Serenergy, the radical EV by the Danish manufacturer currently runs on two 70kw electric motors to reach the top speed of 120kph with a decent range of 180 miles. Mounting the body on a composite chassis with two aluminum sheets separated by a layer of ARPRO, the compact electric vehicle integrates six modules, each capable of accumulating to 4.7kWh of electricity, powered by a modular battery pack.
The upgraded version of the QBEAK will feature a bio-methanol fuel cell to extend the range up to 500 miles, while the ARPRO will insulate the interior and preserve energy for heating or cooling of the EV. The fuel cell apart from increasing the range of the vehicle will also help in reducing the charging time by a huge margin, i.e. less than 3 minutes per charge. Capable of housing six passengers in optimum comfort, the range-extended EV will offer a safe and sustainable ride and that too in an affordable price.
Source: Ec0move