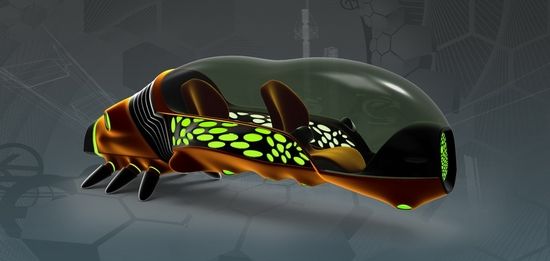 The pace the metropolitan cities are evolving, resulting in cramped roads and increasing pollution, need for some compact and environmentally friendly personal modes of commutation has been felt more than ever before. Addressing the issue, Iranian designer Mohammad Ghezel has developed a smart yet "creepy" vehicle with artificial intelligence that promises to make cities a better place to live in.  Hailed as "BioThink," the futuristic vehicle amalgamates a bionic form with bio mechanism to offer a safe and sustainable ride.
Developed in two versions, i.e. BioThink Type A and BioThink Type B, the sustainable vehicles comes with a DNA Security Key, which installs the DNA data of the owner in the positronic brain (database) of the vehicle, so nobody apart from the owner could access the vehicle. Accommodating two passengers comfortably, the creepy vehicles use intelligent traffic system to ensure speed, safety and comfort on jam-packed city roads.
The BioThink Type A moves on Rotary-Crawling wheels, on the other hand the BioThink Type B runs on gyroscopic wheels. Both versions make use of hybrid energy, electricity and magnet accumulated by bio-sense from solar energy to provide carbon free commutation. And the magnet spot on the body of the vehicle identifies the magnet zone of the road to maintain appropriate distance between vehicles while commuting. Cleaning the screen with micro-fiber lining, the vehicles adjust the bionic lights automatically for easy navigation in bad weather conditions.
Featuring the body finished in smart materials to customize its form according to speed and driving conditions, the BioThink integrates a holographic crystal system to boost the multimedia database, such as music and movies. In short, the BioThink amalgamates futuristic devices and technology to provide a smart, clean, safe and comfy drive on compact urban roads.
[Cheers Mohammad]