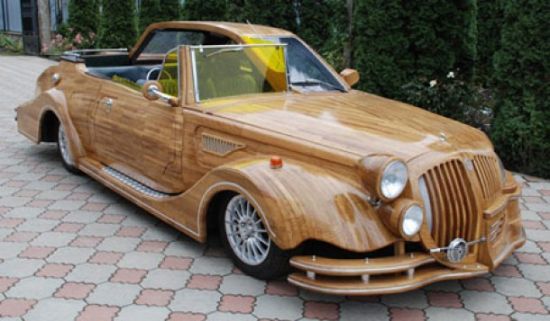 If you are one of the auto nerds who love eerie creations more and own a few all for those sinister looks and lot of head turns on the road, you have a bright chance to own this one-of-a-kind car up for grab on eBay. Sculpted brilliantly in 2007 by a Ukrainian car enthusiast, Vasily Lazarenko, the beautiful car is striking because it amalgamates two different designs: the convertible part of the car supports retro looks, while the modern part possesses a covered roof.
The entire body features numerous oak parts assembled meticulously with glue and bolts. The distinct wooden car also features five layers of waterproof and fire resistant lacquer. It was made on the chassis of a car built in 1980 and features a 2.0-liter engine, which is capable of generating 100 hp. It's a 2 seat layout with rear wheel drive and is in perfect running condition.
For the interested buyers of this unique wooden car, this beautiful and rare car has an asking price of $100,000. However, it remains unknown if it is legal to drive around or not.