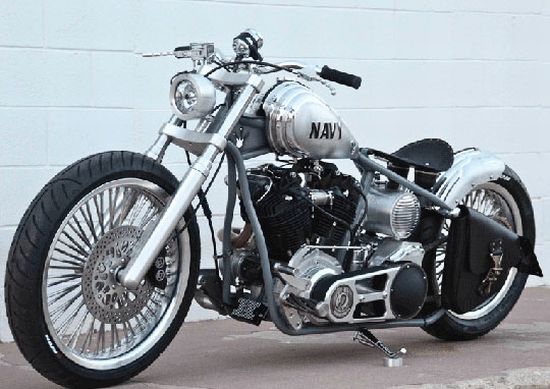 From the world of custom motorbike builders, here comes a sleek beast – Navy F3 Rocketeer. Build by God Darwin Motorcycles, owned and operated by Dar Holdsworth, the custom motorbike is a tribute to US Navy. The motorbike was unveiled at the Rolling Thunder Washington DC on the Memorial Day weekend.
The monstrosity on two wheels is based on the Brass Ball Bobbers Rocketeer F3 edition, which has been chopped, fabricated and chiseled to give it a present form. Featuring a racing Innovations Darwin Rocketeer rigid frame that houses S&S 93 Knucklehead engine, which is connected to Baker 6-speed transmission. It features a specially made 2-inch narrow belt system from BDL.
The Navy F3 Rocketeer flaunts exclusive fabrication work on tank and rear fender that are crafted out of billet aluminum. Also, the finned sides are created from billet aluminum. The whole fabrication work took nearly 300 hours of Holdsworth.
Some of the other prominent features include frame integrated adjustable air bag system, rear fender includes machined hidden ledges that enable the rear fender to remain upright on the tire and arresting cable from the USS Enterprise serves as the foot pegs.
On the upfront, you will find MeanStreet Slammer front end, wildwood brake at front helps bring the bike to a halt and panhead light from Alloy Art. While at the rear, it houses Todd Cycle's Mini Martini lights and bike comes with Ridewright 50 fat spoke stainless rims that are draped in Avon tires, thus making the coherent whole of this beautiful beast.
Via: Motorivista / Brassballsbobbers