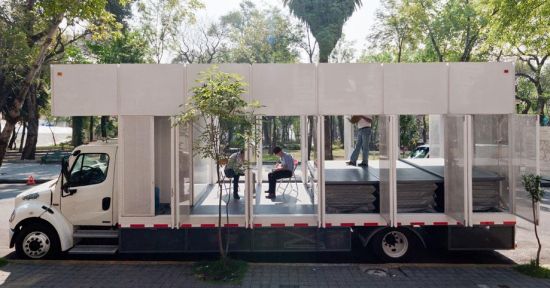 From food trucks to cinemas, schools and pub on wheels, we have seen them all. However, here is something that eschews the common perception of library and goes one-step ahead with a library on wheels. The mobile library is a modern take on the old concept and is an initiative from Fundación Alumnos47 – a civil non-profit organization that brings learning communities together.
A47 Mobile Library that travels around the Mexico City provides space for workshops, book discussions, and lectures on various subjects, thus making it more an interactive tool on the move than a library that has wheels.
In order to make this mobile library a reality, Mexican architecture studio Productora took a M2 20K lorry and designed a 20 square meter space on it. The interior of the lorry is cocooned in 26 drilled sheet metal doorways that not only give the considerable level of transparency but also fuses the outside with inside. The floor of the library has mobile platforms that give access to the bookshelves and allows the space to be reorganized, depending on the need of the gatherings taking place within.
The lorry houses approximately 1500 books in transparent floating shelves above the users and provides ample space to a group of people to assemble and use the reading material at disposal. In the night, the lorry illuminate with the help of integrated generator and the raised platform of library servers as a stage to the users giviing meaning to a whole new concept.