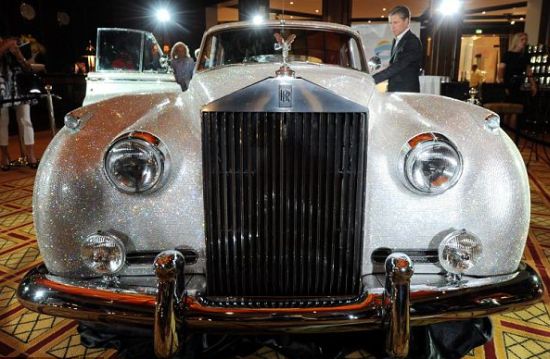 Rolls Royce cars are already a treasure to own. What if one of them is studded with Swarovski crystals? It's nothing less than icing the cake. We have already written about a diamond studded Peugeot RCZ which was carved to celebrate the 60th anniversary of Queen Elizabeth II reign. Peugeot glittered in diamonds but woefully will never be offered for sale.
However, the antique 1962 Rolls Royce Silver Cloud II adored with more than a million Swarovski crystals is on display at the Four Seasons Hotel in Munich and will be up for the sale soon. Swarovski crystals that cover the car from front to tail end has meticulously been implanted to make this old beauty shimmer in all the colors of rainbow. Putting over a million uniquely cut crystals all over the car was a herculean task and took more than three year to complete the task.
Just to remind brand's enthusiasts that Rolls Royce Silver Cloud II was first introduced in 1959 and models were built until March 1966. It was equipped with 6.2 L V8 engine, was capable of sprinting to a top speed of 114mph and had a gross weight of 2.11 tones when rolled out of the factory.
This beautiful car that will be on auction block next month has noble cause as all the proceedings from the auction will go to the 'Help in Motion' charity foundation helping drug addicts. No price of the car has been set as of now.
Via: Dailymail