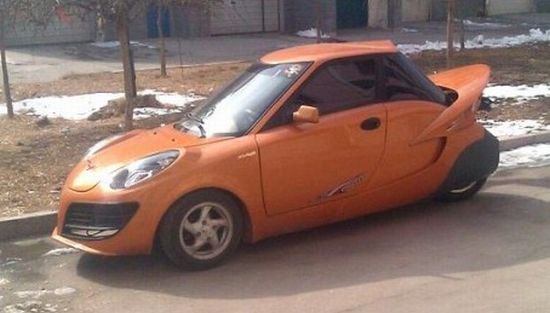 We have seen Chinese madness in the past and here is another creation, which is an embodiment of their passion for autos going higher every time. Moreover, when we talk about the craze for automobiles from China, one manufacturer that strikes is Binzhou Pride Automobile. This somewhat bizarre vehicle pictured above is Pride 3-wheeler prototype from the great city of Binzhou, China.
The manufacture was famous for building crazy (read weird) cars but woefully closed in 2008. However, the remnants are still there and this three-wheeled vehicle is one of them. Erik, a reader of ChineseCars.net, spotted this car and shared some photos too. Featuring a big and wide wheel at the rear and two small ones at the front, a wing, centrally positioned driving seat and another in tandem, giant windscreen wiper, duel exhaust at the rear and flashy orange color completes the look.
The three-wheeler is based on the Chery Eastar. Unfortunately, we don't have info on its powertrain but the twin exhausts at the rear eliminates the possibility of an electric powered vehicle. However, as we know that Binzhou used a 0.870 three-cylinder engine for their smallest car, so there is a possibility that the three-wheeler has something similar. We wish Binzhou Pride Automobile had stayed longer to create such ominous machines.
Via: Carnewschina