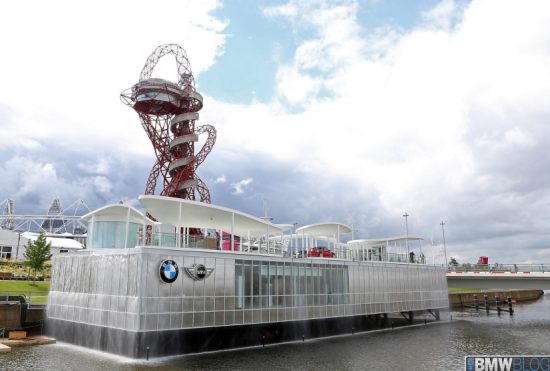 With the Olympics just days away, the excitement, expectations and the pressure is getting high for the sporting personalities and enthusiasts. As the Official Automotive Partner of the London 2012 Olympic and Paralympic Games, German luxury automaker BMW has now revealed its two-story Olympic Park Pavilion, which will 'float' on the Waterworks River between the Olympic Stadium and the Aquatics Centre. The sustainable BMW Olympic Pavilion, created by an award-winning British architecture firm, will be used to highlight automaker's sustainable mobility vision and its individual rooftop will showcase the latest models and the concept cars from the automaker.
One of the major highlights of the Olympic Park Pavilion will be the 'water curtain' effect caused by the river water flowing down the sides of the amazing 800 sq m structure. The pavilion will be made from steel with high recycled content and carbon heavy materials like concrete have been used as less as possible. The top floor of the BMW Olympic Pavilion, which comprises nine rooftop pavilions, will be used to showcase the company's latest offerings and the concept cars, including the BMW i3 Concept all-electric city car, BMW i8 Concept plug-in hybrid sports car and the BMW 3 Series Touring.
The lower deck of the BMW Group Olympic Pavilion is meant for the London 2012 Games fleet and interactive exhibitions to tell visitors about the BMW Group's recent innovations and its vision for the sustainable mobility. Other BMW creations on display include the BMW E-Scooter, BMW i Pedelec concept and the MINI Rocketman concept that bears a stunning London 2012-inspired color scheme.