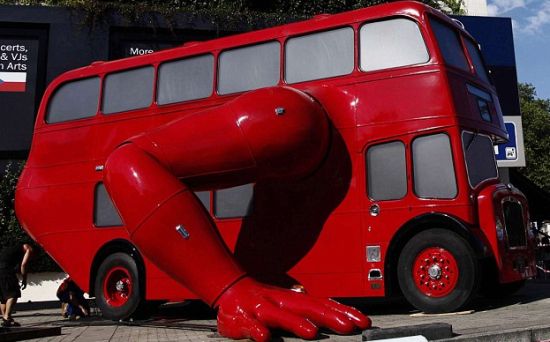 As the London Olympics are around the corner, artists and brands are coming up with their amazing creations to impress us. The next in the line is a mechanical structure that mimics an athlete doing the push-ups. The creation is the handiwork of Czech sculptor, David Cerny, who converts a 1957 London bus into the piece of art.
In order to make this amazing piece of art functional, the artist added two giant arms, electric engine, did some wiring work and added suspensions that make the 6-ton bus go up and down in the similar fashion as an athlete doing push-ups. The bus chassis, apart from going up and down, rose in various angles and is followed by the video projections on the screen and recording of some moaning sound.
The stunning creation is dubbed as London Boosted and David Cerny bought the old London bus from an owner in the Netherlands. The artwork is installed outside the Czech Olympic House in Islington, which is located in the North of London.