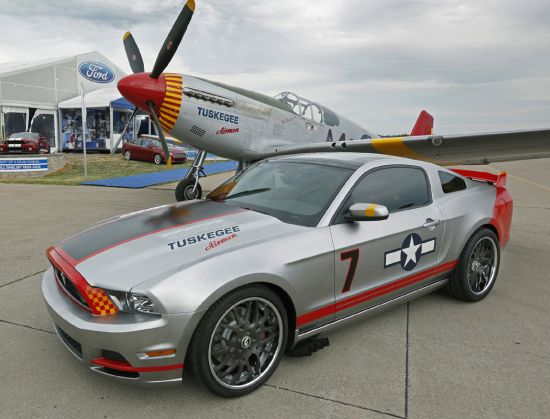 With the intent to help out Gathering of Eagles charity event with funds to support Young Eagles program that gives a chance for next generation of aviators to have introductory flights free of cost, engineers and designers at Ford have produced this one-off Red Tails edition of 2013 Ford Mustang GT. The 2013 Mustang GT Red Tails will be auctioned on 26th of July 2012 during the Experimental Aircraft Association (EAA) AirVenture Oshkosh 2012 at Wittman in Oshkosh, Wisconsin.
The special edition of 2013 Ford Mustang celebrates the Red Tails – a nickname for the Tuskegee Airmen, which is a group of African-American fighter pilots who flew P51 Mustangs and Bombers during the Second World War. This unique version features some cosmetic facelifts and will be finished in a unique polished aluminum that you won't find in any production model. The glass roof mustang will sport a Red Tail and yellow accents similar to those found in the World War II planes that flew on more than 1500 missions.
Ford Red Tails Edition Mustang GT will also get US Army Corps, 332nd Fighter Group and Squadrons logos, Boss grille and rear spoiler and it will have VIN No. 00051 in honor of Tuskegee Airmen squadron.  Additionally, the ford will also come with Roush rockers; rear diffuser from GT500, 20" Forgiotto wheels as well as a SVT quad exhaust setup.
Inside the special edition will be new gauges, a modified navigation screen, tri-colored seatbelts, Recaro seats and headrests stitched with Red Tails, an exclusive instrument cluster and the edition comes sans rear seats in favor of in favor a red X-brace.
Powering the special edition that captures the symbols to pay reverence to the fleet of pilots will be a Ford's 2.3-liter Whipple supercharger that will exude power and performance with 642 hp and will feature GT500 Brembo brakes to bring this beast to a halt.
Via: Examiner