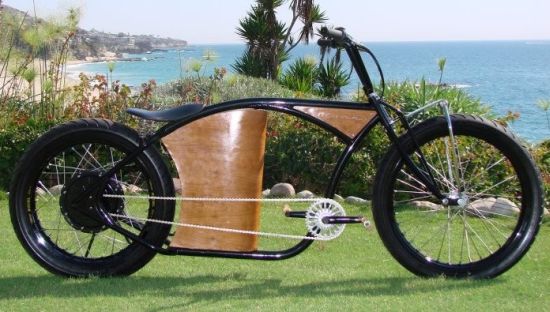 Bikes have always been the most eco friendly means of transportation. However, with the advent of technology and inclusion of lithium ion batteries to take that proverbial fatigue away from the rider, bikes have undergone considerable changes, as far as their form is concerned. The designers and makers can now play with their making and sometimes they come up with bikes that are chubbier than their conventional counterparts, courtesy to the inclusion of batteries and an electric motor/s that also adds to the weight of the bike.
One similar bike in question here is M-1 eBike from Anaheim-based Marrs Cycles, which looks more like an old Harley Davidson. The company was founded by Kacy Marrs and he, together with his business partner, Brad Fanshaw, builds electric bikes as per customer specifications. The bike houses lithium battery packs that provide the vital juice to three-phase brushless rear hub motor, taking the weight of the bike to a whooping 140 pounds. M-1 electric bike can cover a distance of 20 miles with a 175-pound rider at the top speed of 20mph.
So far, so good. However, the coin has the other side and this e-bike isn't an exception. If you are making your mind to own one, then make sure that the distance you travel from your home and back isn't more than 20 miles or else your legs should have enough juice to pedal this ostensibly heavy bike home. Because a 140-pound bike is too heavy to pedal, mind you. The use of wide tires, particularly the rear one, is questionable. Even if they're used to give aggressive looks whatsoever, the inclusion of pedal mechanism is simply useless. The reason being, if the batteries run out of juice midway, you can't pedal it home but have to arrange some carriage do the job.
Nevertheless, the bike features 4130 chromoly steel frames and are available in many colors and wood veneer types. On the other, the high-end motorcycle, bicycle, and custom-made parts are mixed to make the components of the bike. The possible buyers have to shell out a minimum of US$7,000 to own one.
Via: Gizmag