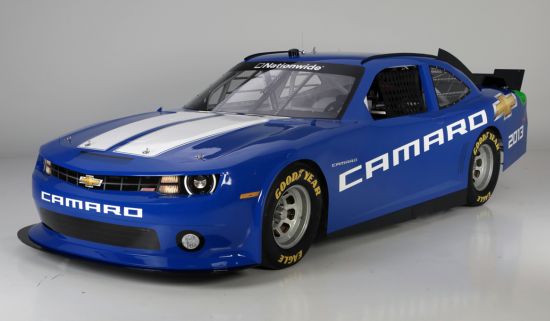 We already have seen Doge's Charger and Ford's Fusion for the 2013 NASCAR racing season, now Chevrolet steps up the stage with its Camaro NASCAR. The top selling car in USA that will debut in February 2013 at the Daytona International Speedway will flaunt blue paint finish, and will look more like its production counterparts.
The designers and engineers at Chevrolet did a fantastic job in capturing the styling cues from production Camaro to provide NASCAR Nationwide teams with a competitive aero platform. The distinctive features include an exclusive power-bulge hood, recessed grille, LED halo headlights, dual-port grille appearances as well as gold bowtie and a front end that closely resembles to Camaro.
The new regulations from the NASCAR allow the cars that look more like their original body styles to compete in the Nationwide Series. This led Ford to introduce Mustang, Doge chooses a Challenger while Chevrolet replaced its Impala with Camaro. By introducing Camaro to NASCAR, Chevrolet closely followed picks from Ford and Dodge to run a muscle-car themed entry.
Source: Chevrolet