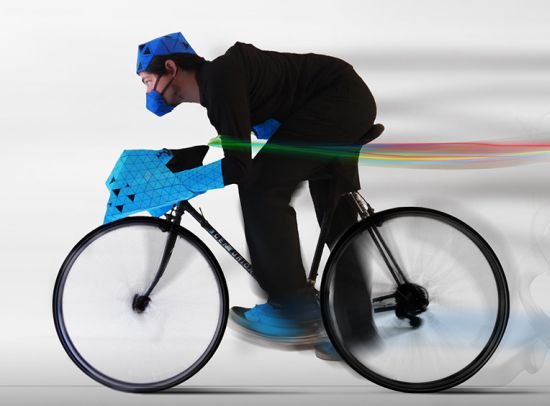 In a future scenario where the availability of fossil fuels is at nadir, recurrent financial instability has troubled the populace and environment pollution is at pinnacle, bicycles will only be the mode of transportation for the most of the people. We have had many bicycle designs so far that focus on the form of the bike but never on the interaction between bike and its rider.
In such a scenario bicycle will overtake as the main mode of transportation and cars will only be affordable for the rich a few. The bikes will now be the social status and symbol of every individual and megacities will see the bicycle based sub-cultures creeping in. One of such cultures, as per designers, is BikeBorgs that combine aspects of cyberpunk and DIY hardware hacking with their personally modified bikes.
Keeping the above scenario in the mind, three students viz. Hideaki Matsui, Andrew Nip and Markus Schmeiduch from the Copenhagen Institute of Interaction Design (CIID) propagate enhancing interaction between bike and its rider. The Bikeborgs will remain physically connected to the bikes and this connection allows them transfer of data and energy intermediately.
The bike creates a self-sustaining system by harvesting energy from cycling power as well as the body heat of the rider. On the other, Bikeborgs will be able to customize the bike as per their needs. The modifications can range from adding the sensors to measure the level of pollutants and many others like adding signal lights to ease the riding.