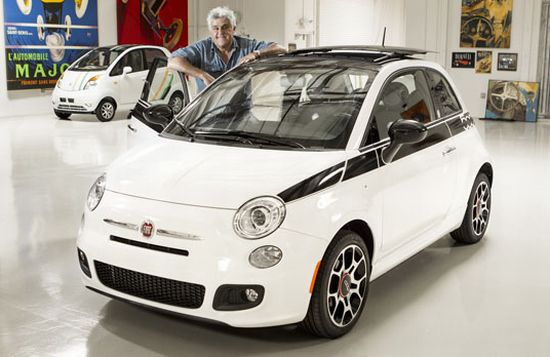 Jay Leno, the famous comedian and car buff, has a very kind heart too, particular when it comes to support and honor the sacrifices of servicemen in the war. The Tonight Show host has already shown his benevolence by auctioning an old tractor from his cache of vehicles for a cool $550,000 last year and contributed the whole lot to the charity.
Jay Leno is to do the same again. This time, he is auctioning his 2012 Fiat 500 Prima Edizione and all the money will be donated to support the Fisher House Foundation – a charity house that built suits near to VA hospitals across the country to provide lodgings to the family of wounded warriors to stay in as long as the treatment goes on.
Fiat 500 from Jay Leno's garage will be auctioned at the Gooding and Co.'s Pebble Beach Auction on 18th of August. Though the brand new car currently costs $22,000, yet having a tag of being the part of Jay Leno's garage will surely add more prestige to it. On the top of this, Jay Leno on stage during the bidding is to bring in the same ripple effect as it was at the time of tractor auction last time.
Jay Leno took the delivery of this second limited edition Fiat 500 Prima Edizione imported into the United States last year and is one of the newest cars he owns. Now he is putting the same for auction, despite the fact he has scores of other cars in his garage. The reason being, he wanted a new car complete with air bags and other safety improvements to go to a new home. The car in question has merely 800 miles on the odometer and, as per Jay Leno, is fun to drive on road.
Via:  USA Today