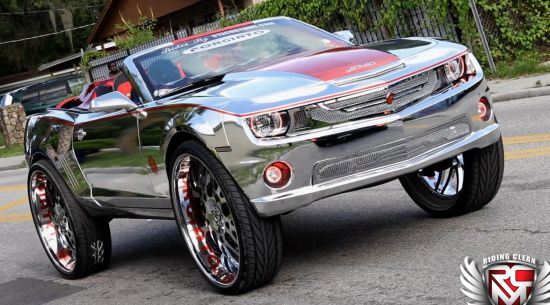 Coming across a wacky wheel is more of an usual than occasional site. Sometimes the creations are cool while on other they reach to an incredible level of stupidity. Well, introducing here is one of such creations and it's up to you to decide whether it's cool or simply absurd. This wacky wheel is the creation of '813 Customs' tuning shop. The custom builder has used 2012 Chevrolet Camaro SS and has given it a new makeover – be it exteriors or interiors.
Well, yes the custom chop shop has given the Camaro SS a shiny chrome wrap, which is further accented with red pin and racing stripes. Additionally, the chromed beast shines with specially customized front grill, red colored headlamps and fog lights that give it more of a devilish looks. Other customized exterior parts include colorless tail lamp covers, hood opening with LED stripes and, on the top of this, huge 32-inch wheels that give it a healthy ground clearance.
Inside, the cosmetic changes can be witnessed in the form of chromed red finish and red leather upholstery. What's more? Check out those too many speakers on the doors and rear benches  as well as the double-sided LCD flat screen in place of the rear seat bench complete the whole package.
Via: Carscoop