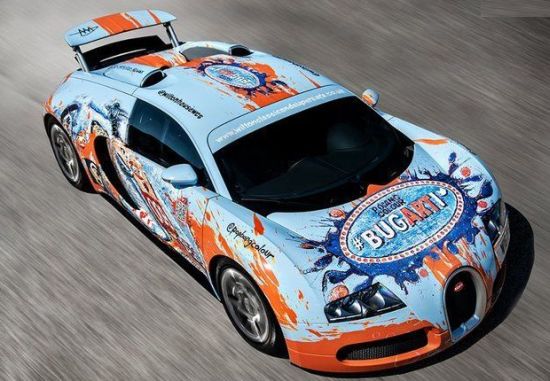 Bugatti Veyron is an undisputed champion of the road. The beast is engineering marvel and the fastest car on the earth. It's sleek and elegant design cues yet aggressive stance makes it the darling of millions. You all might feel little agitated or irritated whatsoever to find out how we have spelled its name. Before all of you Bugatti veyron lovers start filing comments recommending us to correct the spellings, let me tell you this is how it is, and don't start thinking it's a new car, or for that matter, even a replica Bugatti Veyron.
Well, surprised? You might surely be. The case in here, however, has Bugatti Veyron rechristened as Bugarti Veyron and was showcased by the organizers of the Wilton House Classic and Supercars. But that doesn't make it a different car altogether as it has the same performance credentials of a Veyron that commands 1000 ponies developed by 16.4 liter mid mounted V8 engine. The only thing that has changed is its external looks.
This is surely gonna be one of the most amazing Bugatti Veyrons we will ever see. In order to make this external design for Veyron, Wilton House organizers and the owner of the car, Lord Pembroke, commissioned Ian cook in partnership with the artist's PopBangColour design studio.  Ian Cook made a special design, which was then converted and swathed on the car's body. This one of a car will be on display at the Wilton House in England until next Sunday. You can see the car by booking your ticket in advance for $15 and it takes $18 for instant visit.
Via: Topspeed