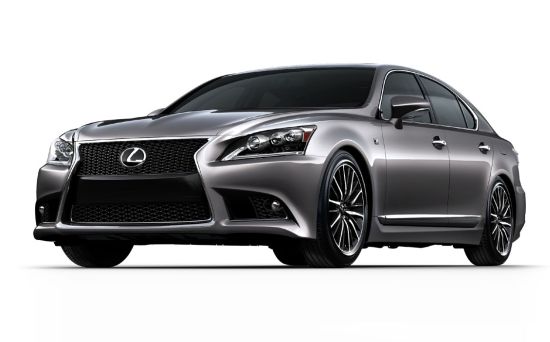 After a long wait and many leaks on to the web before its official debut, Lexus finally puts the wraps off to its LS 460 lineup. The Models were revealed at a special event held at San Francisco, California. Lexus 460 series consists of four models: LS 460, LS 460L, LS 600hL hybrid, and the LS 460 F-Sport. The series is based on the fourth generation model, which is on road since 2006. However, the new series gains a considerable ground with more dynamic exterior and restyled interior as well as prominent changes under the sheetmetle.
Two models from the series i.e. Lexus 460 and LS 460L will be offered with rear wheel drive and all wheel drive options, where as the LS Hybrid will come in a permanent four-wheel drive configuration.
Talking about the powertrain, the 2013 Lexus 460 lineup will continue with two options. The tweaked 4.6 liter V8 that adds 6hp more in the RWD taking the power tally to 386hp 367lb-ft of torque, whereas the AWD vehicles will gain a meager 3hp and 3lb-ft of torque to a total output of 360hp 347 lb-ft of torque. The 4.6 liter V8 engine will be aligned with eight speed automatic transmission that enables the RWD LS 460 version sprint from 0-60mph in 5.4 seconds, doing quarter a mile in 14 seconds (14.3 seconds in AWD) and has its speed electronically controlled at 130mph. Its EPA fuel economy ratings are at 16mpg /24mpg/19mpg for city, highway driving and combined respectively.  It will be 16/23/18 for city/highway/combined for the AWD version.
Additionally, the LS 600hL hybrid remains unchanged for the 2013 model year. It will come with 5.0-liter V8 petrol engine connected with two electric motors that take the power output to 438hp. The run from 0-60mph is achieved in 5.5 seconds and it touched the top speed of 130mph, which is electronically controlled. Lexus LS 600hL hybrid's EPA fuel economy ratings are at 19mpg for city, 23mpg on highway and 30mpg as combined.
LS 460 F Sport version, however, doesn't flaunt any changes as far as the engine department is concerned. Rather, it gets sport tuned air suspension that lowers the vehicle by 0.4 inches, Brembo six piston caliper brakes, F-sport seats, leather clad steering wheel with paddle shifters, aluminum trim and 19-inch forged wheels with all season tires.
The other distinctive features include an advanced illumination system that consists of LED lighting in the interior, Lexus Climate Concierge that automatically controls the cabin temperature and works in harmony with climate control seats and heated steering wheel. Additionally, the vehicle also flaunts the 12.3-inch, split-screen high-resolution multimedia display offering wide viewing angles for occupants.