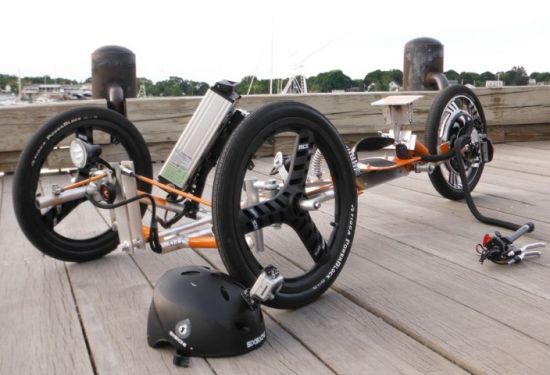 Out of scores of electric powered vehicles available in the market, it's rare that you are fascinated by one. Presenting here is an electric trike from Black Sparrow Industries and it's different, really different and may be of your taste. The reason being, it's ridden standing up as well as in a recumbent position with the addition of a bolt-on kit which makes it a wonderful hybrid of recumbent trike and a motorized skateboard.
The imagination of Robert Worobey, the bike is christened as Tribey and is made to withstand any situation – be it serious abuse or navigating though potholes as deep as 3 inches. The bike is customizable enabling the owner to add a special tough of his own and is made easy to repair when pushed beyond its limits.
Tribey gets power from a MagicPie 3 wheel hub motor from Golden Motor rated at 1kw. The hub motor gets vital juice from the 48-V 10-Ah battery pack that enables a 195 pound rider to touch a top speed of 25 mph and cover a distance of 18 miles on a single charge. However, the range may vary as per the terrain, weather and movement of thumb-controlled throttle. The speed of the trike can be tuned down with the help of a computer.
All the Tribeys are built-to-orders. Tribey measures 78 inches long, 30 inches wide and weighs 90 pounds. Some of the prominent features of the bike include front and rear lights that make it a good ride even at nights, thumb throttle, cruise control as well as electronic and mechanical brake system.
The Tribeys are offered to the customers above 16 years of age and they have to sign a liability waiver to ride it at own risk. The mark 7 Tribey is soon to hit the market with a price tag of US$2499.