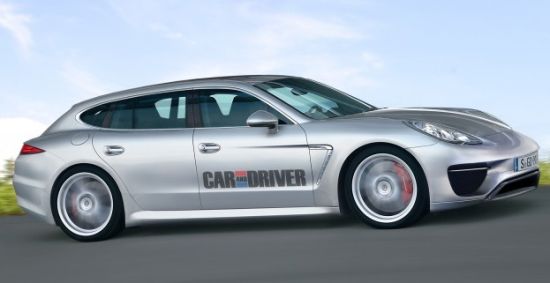 Ever since Mercedes officially unveiled its Shooting Brake model, the rumor mill has kept churning about McLaren bringing in the MP4-12C Shooting Brake edition and now similar hoaxes have risen about Panamera Shooting Brake version from Porsche. Well, the possibilities can't be put off as it could be a proposal to increase the reach of the Panamera.
Autobild first reported the news and it has gradually crept into the web. Now, Autocar reports that a shooting brake style Porsche Panamera concept can debut at Paris Motor Show to be held in September this year. The concept design is to stand somewhere between current Panamera and the next one. The concept, in fact, will be a design study of the said vehicle and will be put on display to note the show-goers response before actually entering it into production.
The Paris bound concept is expected to get power from a new plug-in hybrid powertrain with more electric range than the current Panamera hybrid. However, before you all Porsche fans get too excited about this model and start thinking that Panamera Shooting Brake may come with same level of luxury as Panamera but with more practicality, you should know that this model won't come before next generation Panamera aimed for 2015. That means, the Porshce Panamera Shooting Brake won't see the light of the day before 2016 in any case.
Even if the car gets nod for production, it's too long a time to see it competing with likes of Mercedes Benz, Jaguar XF Sportbrake and Ferrari FF shooting Brake model that have already forayed into the market.
Via: Car&driver