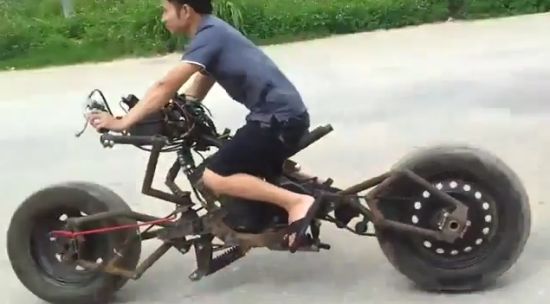 Batpod – the fictional personal motorcycle of comic book superhero Batman has already seen the light of the day. The street legal Batpod replica built by Dave Welch at Chopper City USA and owned by Pankaj Shah has already hit the road. The custom chop shop or for that matter Bruce Wayne have enough sources and time to built one but how about a scenario wherein you want to ride one but have very limited sources for the purpose.
Well, this is the time to pursue building one for yourself and that's what a Vietnamese man has done. Using his creativity and imagination, this man has built a Batpod replica for himself and it's damn impressive, you know. The creator that we woefully don't know anything about has used parts fallen off from other cars to built this bike.
The bike may not be an exact replica or feature that 786 cc liquid-cooled V-4 engine, a computer-controlled carburetor or a bulletproof wind-guard as in original, but this Vietnamese version of Batpod surely marks the ingenuity and makes you feel riding the original. Check out the video after the jump to see the Batpod replica in action.
Via: Geekologie